Derby's Street Lighting PFI Contract
Wayfaring Road, Oakwood
| | | | | | |
| --- | --- | --- | --- | --- | --- |
| Seq. No. | Lamp Number | Location | Lamp Type | Watt | Isolation Point |
| 1 | 99973 | ON GREEN AREA | SXPL3 | 90 | |
| 2 | 99974 | ON GREEN AREA | SXPL2 | 90 | |
| 3 | 99975 | OS 18 COLUMBINE CL | SXPL2 | 90 | |
| 4 | 99976 | IN BUS LAY-BY | SXPL2 | 90 | |
| 5 | 99977 | JNC FP SANTOLINA DR | SXPL2 | 90 | |
| 6 | 99978 | RR 14/16 BRYONY CL | SXPL2 | 90 | |
| 7 | 99979 | ADJ 20 BRYONY CL | SXPL2 | 90 | |
| 8 | 99980 | RR 32/34 BRYONY CL | SXPL2 | 90 | |
| 9 | 99981 | RR 364 BISHOPS DR | SXPL2 | 90 | |
| 10 | 106280 | SPLITTER JUNC BISHOPS DR | FL | 11 | |
| 11 | 106281 | SPLITTER JUNC BISHOPS DR | FL | 11 | |
The following photographs were taken on Sunday, 19th September 2010.
An integrally-geared Philips MA 90 greeted motorists as they entered Oakwood from Chaddesden.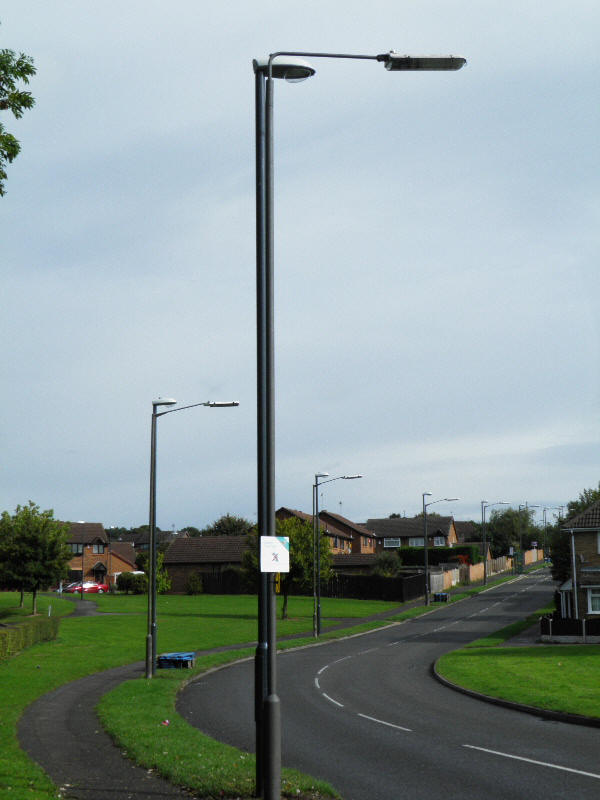 A close-up of the MA 90 reveals that the front bowl clip is not engaged. The four other clips were properly secured, however, so there was no danger of the bowl becoming loose in the lantern's last few days in service.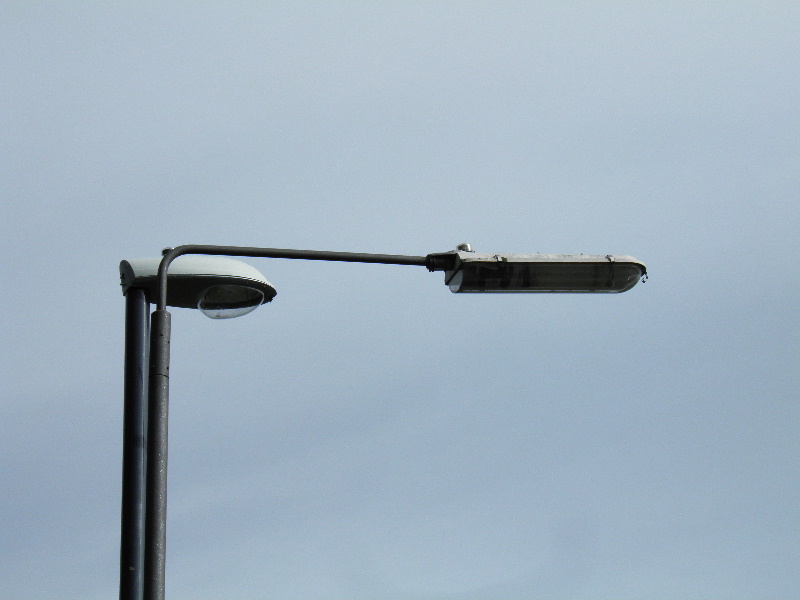 Thorn Alpha 4 lanterns completed the run up to the Bishops Drive roundabout. These are likely to date from the early 1980s, when this road was constructed.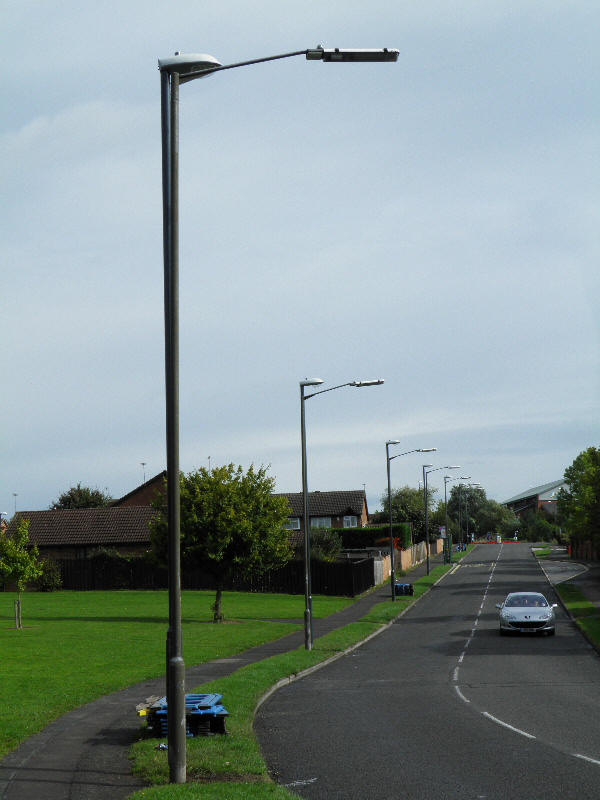 After almost 30 years' operation on this road, the GRP canopies of the Alpha 4s were beginning to look rather weathered.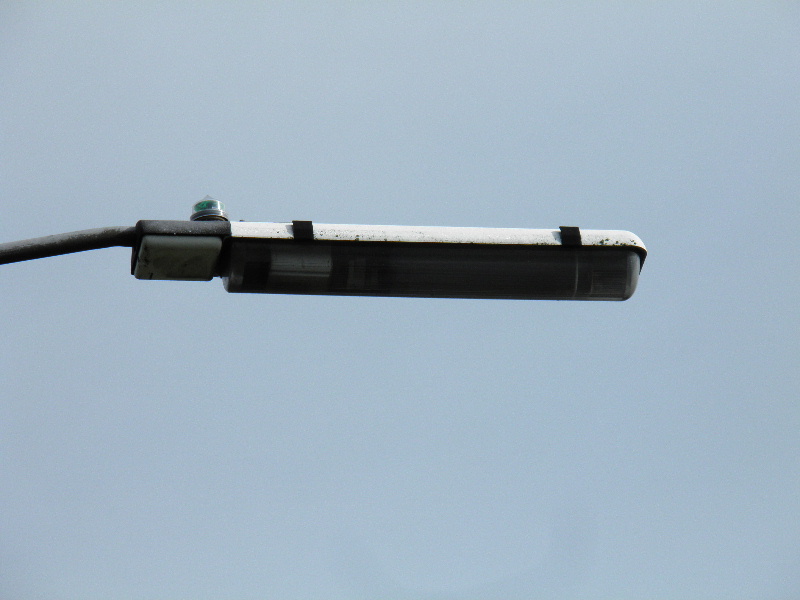 Time to attempt an 'arty' shot, methinks...this close-up of four Alpha 4s (conveniently!) and two and a half Iridiums reveals three different types of photocell employed to switch the outgoing lanterns - in the background, the cell is a Royce Thompson Monostar 1000, followed by a SC1000 "PFI Spec" cell, again made by Royce Thompson. Finally, a Sirebeck S300 from the early-mid 1990s is seen. The lantern fitted with the SC1000 looks to have an especially grubby lamp area.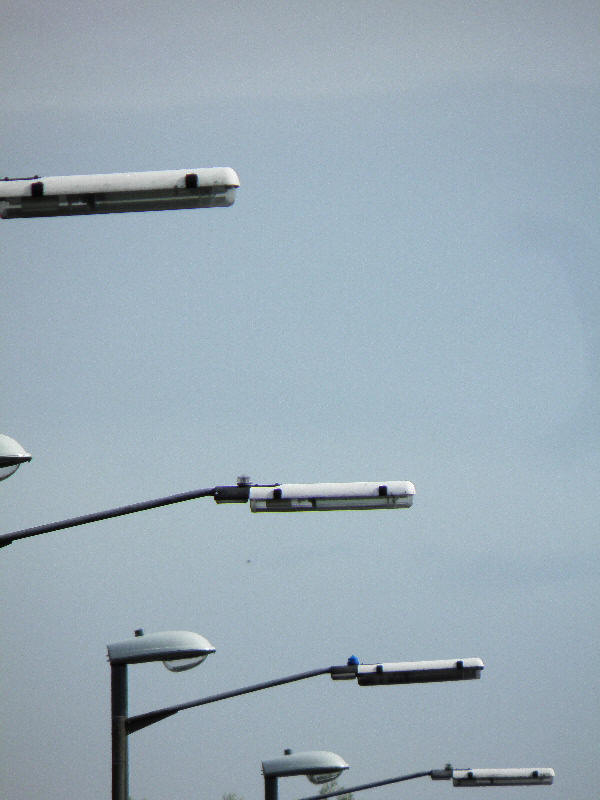 As a way of completing this "brief history of the photocells used in Derby", this Alpha 4 is fitted with a Zodion SS3DR cell. Notice that the bracket is not correctly located on the column spigot - this is likely to date from when the bracket was originally fitted.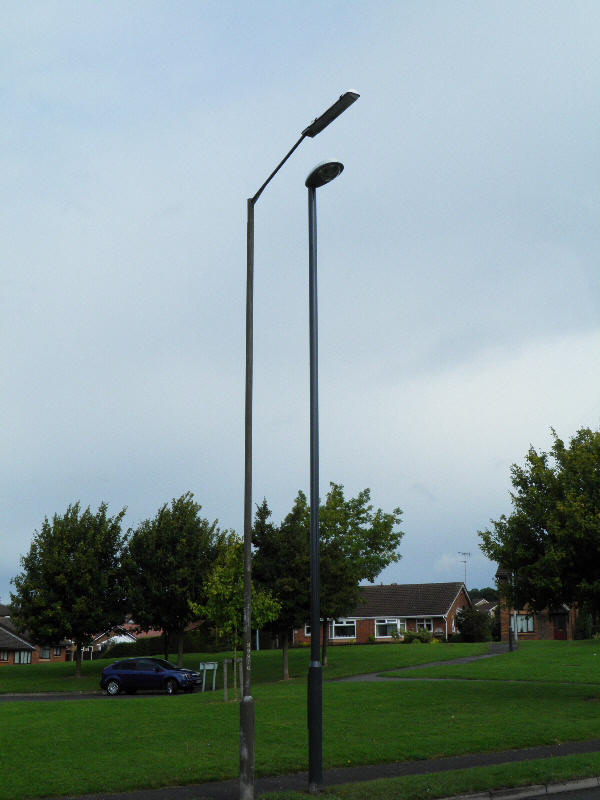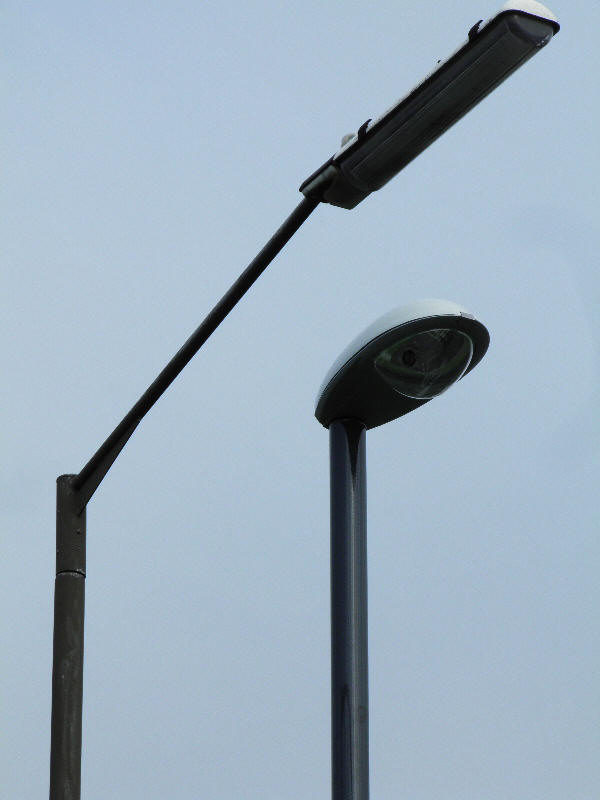 ---
BACK TO NEW INSTALLATIONS IN OAKWOOD PAGE
© 2002-2013 English Street Lights Online